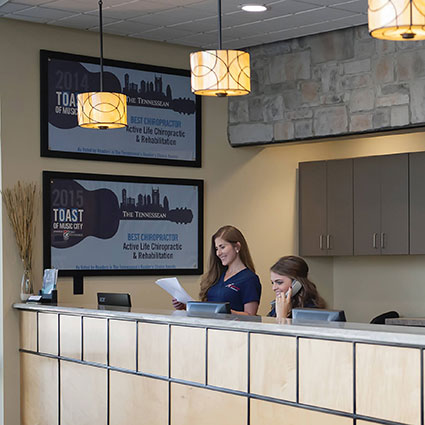 New Patients at
Active Life Chiropractic
Our Active Life Chiropractic team wants to make your visit as convenient and enjoyable as possible, so we let you know what to expect before you arrive. We will call you the day before your appointment as a reminder, and our new patient paperwork is available for you to complete online. If you're not able to do the forms ahead of time, please come in fifteen minutes early for your first appointment to complete them.
NEW PATIENT PAPERWORK »

Your First Visit
When you arrive, our friendly front office staff will greet you and take the time to start getting to know you. They'll also take a copy of your ID and insurance card. We'll offer you something to drink, then you'll meet with your chiropractor. At this visit, we want to get to the bottom of what's been going on with you, so we'll listen as you explain your situation and how it's affecting you. Your doctor will then do a thorough exam and, if necessary, will take digital X-rays.
This visit lasts about 45 minutes to an hour. In most cases, you'll get adjusted for the first time at this appointment.
Your Second Visit
Your chiropractor will review your exam results and any X-rays to design a care plan that is tailored specifically for you and your needs. At your second visit, your doctor will go over your X-rays and our complete report of findings and recommendations for treatment. They'll answer any questions you have, and explain what you can expect from our care. We like to take the time to educate our patients about how chiropractic care can benefit them.
We'll also go over your insurance coverage and any financial information at this visit. This visit takes about 30 minutes.
Follow-up Visits
Your regular visits will take between 15 and 30 minutes, depending on your specific treatment plan and any other therapies you may receive.
Start Today
Contact us today to book your first appointment and get started with care.
CONTACT US »
---
New Patients at Active Life Chiropractic | (615) 758-7373